(bee GOE nee ah)
Begonias are really inspiring. With beautiful flowers, a trailing habit and decorative foliage, the begonia will fulfill your gardening needs. Begonias are useful for containers, hanging baskets, and window boxes. The Orchid Series is a real showstopper in almost any garden application.
Please select flower to see care instructions.
Varieties Listing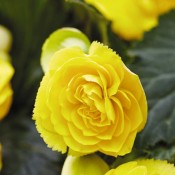 BEGONIA, Nonstop Joy Yellow
An abundance of large, bright yellow double blooms add vibrant colour to mixed combo planters and hanging baskets all season long. The strong, well-branched growth of this begonia means it is resistant to breakage and wind damage. Joy is an easy to grow, drought and heat tolerant plant that does not require deadheading. Attracts hummingbirds… Read more »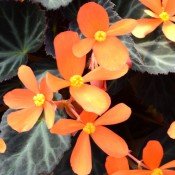 BEGONIA, Sparks Will Fly
This dazzling begonia is sure to catch eyes with its stunning tangerine flowers that burst forth from rich, dark bronze foliage. Sparks Will Fly blooms continuously throughout the summer making it a fantastic low-maintenance addition to planters and borders. As the weather cools in the autumn, the glowing orange blooms flush with yellow.
Back to Garden Collection.