(jip SOF ih lah)
Gypsophila, commonly known as Baby's Breath, is a perennial plant native to Eastern Europe and the Mediterranean. Used as a garden ornamental since the late 1800's, it provides a lightness and airiness to gardens with its billowy branches of tiny pink or white flowers. Despite the delicate appearance, Baby's Breath is quite tough. An excellent addition to landscapes, baskets, and mixed containers.
Please select flower to see care instructions.
Varieties Listing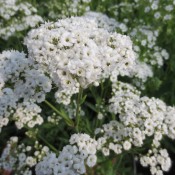 GYPSOPHILA, Festival Star™
Festival Star is compact Baby's Breath variety that is covered in clouds of small pure white flowers hovering over dense grey-green foliage. Its tight, mounding habit allows it to remain neat and uniform throughout its long blooming season. Although it is resistant to deers, butterflies cannot help but be attracted to this plant. Festival star… Read more »
Back to Garden Collection.