(lob yew LAR ee ah)
Lobularia is one of the easiest annuals to grow. This low growing plant produces a dense carpet of tiny flowers upon well-branched stems and lance-shaped grey-green foliage. A sweet smelling plant, Lobularia is often sought after as a filler for containers, window boxes, and baskets.
Please select flower to see care instructions.
Varieties Listing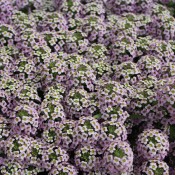 LOBULARIA, Lavender Stream™
Lavender Stream is a garden must-have. This ball-shaped plant is a non-stop producer of pretty, lavender flower clusters. It is a fast, easy-to-grow plant that is self-cleaning and tolerant of both hot and cool temperatures. Grow Lavender Stream in mixed containers and hanging baskets near windows or doorways to take full advantage of its wonderfully… Read more »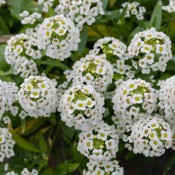 LOBULARIA, Silver Stream™
Silver Stream is a new garden must-have! This ball-shaped plant is self-cleaning and highly temperature tolerant. Throughout the summer months it produces an abundance of dainty white flower clusters that have a wonderfully sweet, honey-like fragrance. This fast, easy to grow plant is a perfect filler to mixed containers, hanging baskets, and window boxes. Attracts… Read more »
Back to Garden Collection.