(skab ee OH suh)
Scabiosa is a unique plant that is sure to catch attention. With their cushion-like centres and pin-like stamens, it is no-wonder why this unique plant is also known as Pincushion Flowers. The short branching stems bear an abundance of these vibrant coloured flowers that bloom non-stop throughout the summer and into late fall. This plant is great for mass plantings, garden borders, and mixed containers. They are also fantastic cut flowers. Deadheading is necessary to promote further flowering and to improve the plant's appearance. Loved by butterflies.
Please select flower to see care instructions.
Varieties Listing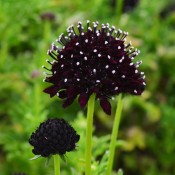 SCABIOSA, Black Pom Pom
Black Pom Pom is a must-have, unique garden addition. Attractive white flecked, deep chocolate-burgundy blooms perch atop short branching stems over bushy, fern-like foliage. This pollinator favourite is an ease to grow. An excellent choice for adding rich colour, depth, and texture to mixed containers or borders. Black Pom Pom also makes a beautiful cut… Read more »
Back to Garden Collection.