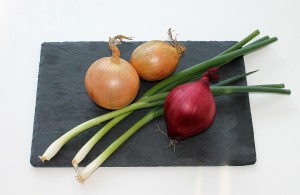 Allium cepa
Onions have been grown for centuries and is one of the oldest cultivated vegetables. They remain just as popular today and are used in almost every type of cuisine from around the world. Onions belong in every garden whether large or small because they take up little space, are easy to grow and they have a long harvest period. Onions are very versatile as they come in many shapes and colours as well as strength of flavour.
Bunching onions are also known as scallions, green onions or spring onions, can be used fresh for salads, mashed potatoes and garnish, sweet onions for hamburgers or onion rings and yellow onions are perfect for just about any cooked dishes.
Varieties Listing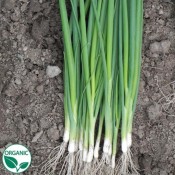 ONION BUNCHING, Parade
Also known as green onions or scallions. Parade has bright white shanks with no bulbing and dark green tops. This Japanese-type of bunching onions is uniform, quick to harvest, and clean.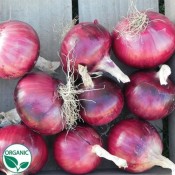 ONION RED, Cabernet
Cabernet is a globe-shaped, medium onion with a sweet, mild flavour. The pretty red, 3″ (8 cm) wide rings add a crunchy and slightly spicy flavour to burgers and salads. Excellent storability.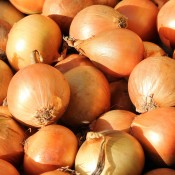 ONION SWEET, Candy
Candy is a globe shaped, large onion weighing 1 – 2 lbs (0.45 to 1 kg). This Spanish type of onion is sweet and mild in flavour so it's perfect in salads, sandwiches, burgers and relishes. The jumbo-sized bulb make it the top choice for onion rings. Candy is early maturing and has short, sturdy… Read more »
Back to Organic Edibles.