Taste of the Season Ediblossoms Listing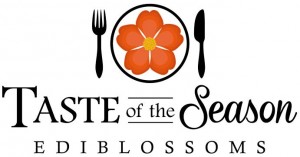 Edible flowers are growing in popularity and they are all the rage in haute cuisine. Many restaurant chefs and culinary home cooks use edible flowers to add texture, colour, and flavour to dishes. The key when using edible flowers is to keep the dish simple – not adding too many other flavours that will overpower the delicate taste of the flower.
With bright colours, distinctive flavours, unique textures and fresh aromas, our Taste of the Season organically grown Ediblossoms not only add stunning visual appeal, but also bring the flavour profile to the next level.
Besides our Ediblossoms, many of our Tried & True and Taste of the Season organic herbs and vegetables also produce edible blooms that can be added to salads, soups, desserts, and more.
Ediblossoms add colour to your garden – and your dinner plate.
Caution: Not all flowers are edible so make certain that the chosen varieties are edible. Most importantly, only eat organically grown flowers that have not been sprayed with any sort of chemical pesticides.