Physalis ixocarpa
Also known as Mexican husk tomatoes. Member of the nightshade family. Originated in Mexico and is considered a staple in Mexican cuisine. Key ingredient in both fresh and cooked Mexican and Central American green sauces. Aztecs domesticated tomatillos dating back to at least 800 BC.
| | |
| --- | --- |
| Nutrition | Low in cholesterol, sodium and saturated fat. A good source of iron, magnesium, phosphorus, and copper. Also, a very good source of fibre, Vitamin C, Vitamin K, Potassium and manganese. |
| Harvesting | Harvest when husks have turned from green, leaf-like and pliable to beige, crisp and papery, and have burst. |
| Storing | Can be stored within the husks in the refrigerator for up to 3 weeks; can also be frozen without husks for longer storage. |
Varieties Listing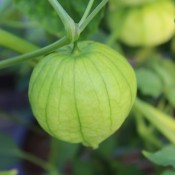 TOMATILLO, Grande Rio Verde
This tomatillo variety is a heavy producer of large, 3 oz apple-green fruit. The medium-sized plant is determinate and won't require staking. Excellent flavour. Tomatillos have a firmer texture than tomatoes and are more cold hardy. Tomatillos are an excellent source of iron, magnesium, potassium, Vitamin C and K, fiber, niacin, and manganese.  Harvest the… Read more »
Back to Organic Edibles.