(ap TEN ee uh)
Aptenia cordifolia, mesembryanthemum cordifolium
Aptenia is a South African native succulent that is part of the ice plant family. The heart-shaped, textured leaves are topped with magenta flowers. This is a compact, mat-forming perennial that provides outstanding groundcover in rock gardens and landscapes.
Please select flower to see care instructions.
Varieties Listing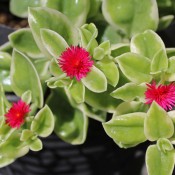 APTENIA, Arrow
Arrow is a beloved succulent that is grown for its beautiful foliage and bright flowers. The heart-shaped, ivory-edged green leaves are wonderfully contrasted against bright magenta blooms making it an exceptional accent plant in mixed baskets and planters. Its trailing habit also makes Arrow great for groundcover. This low maintenance plant is an ease to… Read more »
Back to Garden Collection.