(arr jer RAN the mum)
The Marguerite Daisy is a time-honoured favourite. This group of plants gives free reign to the imagination with every type of application possible. Argyranthemums can be used in mixed containers, as an accent to specimen plants or to add a splash of colour. They are pretty planted in large container groupings or in window boxes and will bloom until hard frost. Remove spent blossoms for continuous bloom. They make excellent cut flowers.
Please select flower to see care instructions.
Varieties Listing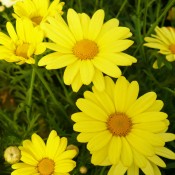 ARGYRANTHEMUM, Butterfly
Butterfly is one of the best Argyranthemum cultivars available today. Excellent garden or container grown yellow marguerite that blooms all summer. Extremely weather tolerant.  Great in pots and containers.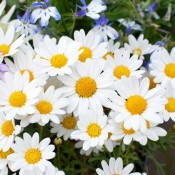 ARGYRANTHEMUM, Lovey Dove™
Lovey Dove is an excellent garden or container-grown white marguerite daisy that blooms all summer. This eyecatching Argyranthemum has a compact habit with snow-white petals surrounding golden centers and lacy green foliage. It has excellent tolerance to extreme weather conditions and to diseases. Excellent for landscapes, containers, or planter boxes.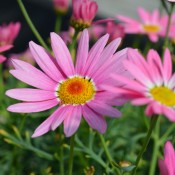 ARGYRANTHEMUM, Pink Harmony
Early, non-stop blooms of large single flowers. It adds brightness and cheer with its beautiful pink petals and bright yellow hearts. These low maintenance plants have excellent tolerance of extreme weather conditions and are resistant to diseases. They are an exceptional choice for landscapes, pots, planter boxes and mixed containers.
Back to Garden Collection.