(kah LEND yoo lah)
A real eye-catcher in window boxes, mixed containers, and hanging baskets with its trailing masses of large bright yellow flowers.
Please select flower to see care instructions.
Varieties Listing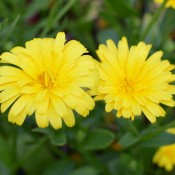 CALENDULA, Skyfire
This type of Calendula is a real eye-catcher with its early, bright, lemon yellow flowers and rich, dark green foliage, Skyfire has a compact and trailing habit. A perfect addition to hanging baskets and patio planters.
Back to Garden Collection.