(sent rah DEE nee ah)
Centradenia has intensive mauve-pink blooms against dark foliage. Semi-trailing plants for semi-shaded to sunny positions. Excellent accent plant for mixed containers and window boxes.
Please select flower to see care instructions.
Varieties Listing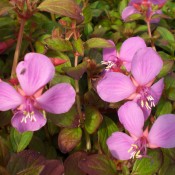 CENTRADENIA, Cascade
Centradenia inaequilateralis Masses of vivid mauve-rose blossoms provide a dramatic contrast to the trailing darker foliage. When Cascade starts blooming in the summer heat the leaves are dark olive green, but with the cooler temperature, they turn a deep bronze for spectacular fall colour. It has very good tolerance and does best in full sun…. Read more »
Back to Garden Collection.