(kop ROS muh)
Coprosma repens
This amazing cultivar with its jewel-toned foliage is native to New Zealand, Australia, and the South Pacific. Coprosma is a tender evergreen shrub(min 40-50°F/ 7-10°C) grown primarily as a colour and structure plant. The shiny, smooth, and glossy leaves are outstanding hence the New Zealanders affectionately call it the Mirror Plant. Suited for mild climates, it is low maintenance, easy to grow, and tolerates coastal conditions. Coprosma is ideal for low hedging, borders, rock gardens, garden beds, and containers for balconies, decks, and patio. It would be an outstanding plant for tropical gardens and with its tidy habit, it would be suitable for bonsai applications.
Please select flower to see care instructions.
Varieties Listing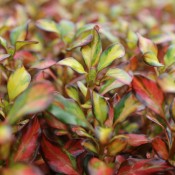 COPROSMA, Evening Glow
Coprosma, Evening Glow is a spectacular colour and structure plant. This tender ornamental shrub (min 40-50°F/ 7-10°C) is grown primarily as an annual accent plant. It has variegated foliage that is shiny and glossy with splashes of bright orange, red, gold and green colour. The leaves darken and intensify in colour as the temperature cools… Read more »
Back to Garden Collection.