(KOO fee ah or KEW fee uh)
Cuphea
Cuphea is a diverse plant genus belonging to the Lythraceae family which is made up of 250 plus different species. Depending upon the species, these tropical and subtropical plants have beautiful and uniquely shaped blooms. In cooler climates, they are grown as an annual in garden beds and containers. Typically, Mexican heather or false heather (Cuphea hyssopifolia) has been the most well-known type of Cuphea plant, but in the last few years, the cigar plant or firecracker plant (Cuphea ignea) has been favoured by gardeners as a pollinator magnet. The various varieties are interesting and unusual in their own right.
Cuphea ignea produces vibrant red, tubular flowers that bear a resemblance to smouldering cigars. These wonderful plants will attract many hummingbirds and butterflies to your garden. Cuphea bloom nonstop from spring until the first frost. These low-maintenance plants are well-suited for balcony containers, window boxes, and larger bedding areas.
Cuphea hyssopifolia is also known by several names such as Mexican heather, Hawaiian heather, elfin herb, and false heather. They are recognized by their bright green, glossy foliage and dainty lavender, pink or white flowers. This prolific-flowering plant tends to grow in a rounded shape and makes an excellent ground cover because of its low growth profile. They are popular in pots, baskets, garden beds, and borders.
Please select flower to see care instructions.
Varieties Listing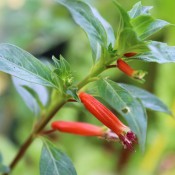 CUPHEA, Eternal Flame™
This compact, well-branched plant has tubular scarlet red-orange flowers which resembles a smouldering cigar. Cuphea Eternal Flame attracts butterflies, hummingbirds and other pollinators.  Tolerates heat, humidity and drought.  Excellent choice for beds, planters and window boxes.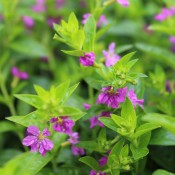 CUPHEA, Lavender Lace
This Cuphea is also known as Mexican or Hawaiian heather. Profuse dainty lavender flowers adorn this elegantly leaved plant. The compact plant's flat feathery sprays of glossy foliage are highly branched. Because Lavender Lace reblooms continuously and is self cleaning, it is extremely low maintenance. The place for this unusual bedding plant is in window… Read more »
Back to Garden Collection.