(KOO fee ah)
These wonderful plants will attract hummingbirds and butterflies to your garden. Cuphea is well-suited for balcony containers, window boxes, and larger bedding areas. The various varieties are interesting and unusual in their own right.
Please select flower to see care instructions.
Varieties Listing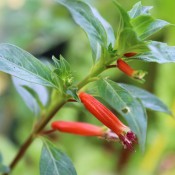 CUPHEA, Eternal Flame™
This compact, well-branched plant has tubular scarlet red-orange flowers which attract butterflies and hummingbirds.  Tolerates heat, humidity and drought.  Excellent choice for beds, planters and window boxes.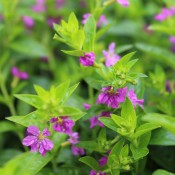 CUPHEA, Lavender Lace
This Cuphea is also known as Mexican Heather. Tiny lavender flowers adorn this elegantly leaved plant. The plant s flat feathery sprays of foliage are highly branched. It has self renewing flowers and it is self cleaning so it is low maintenance. The place for this unusual bedding plant is in window boxes, hanging baskets,… Read more »
Back to Garden Collection.