(dye ANN thuss)
Dianthus
Dianthus means "divine flower" in Greek likely due to their heavenly appearance and scent. Although best known for their various shades of pink, blooms from the over 300 species of dianthus span the nearly entire colour spectrum. These beautiful jagged-edged flowers are highlighted by the subtly handsome bluish-grey, mostly linear foliage. Despite their delicate appearance, these plants are robust and easy to grow. They are deer and disease resistant. The flower nectar of dianthus is highly attractive to butterflies and hummingbirds. With the wide range of growing habits, intoxicating fragrances, and attractive appearance, it is no wonder why dianthus plants have been popular amongst gardeners for centuries.
Please select flower to see care instructions.
Varieties Listing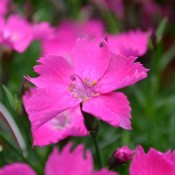 DIANTHUS, Kahori
Kahori was one of the seven entries for the 2011 American Garden Award. It is a very compact growing Carnation plant that continuously produces semi-double, bright pink-lilac flowers. These sweetly scented plants (Kahori is Japanese for scent) with silvery green leaves bloom all season long and are suited for patio, landscape and planters. Drought and… Read more »
Back to Garden Collection.