(dai

·

kaan

·

druh)

Dichondra spp.
Dichondra, members of the morning glory family, are very attractive and interesting additions in the garden. They have clusters of rounded foliage which can be green or silver in colour. Dichondra usually bloom in the early summer, but the tiny flowers are not really significant. These vigorous, low-growing, spreading plants are used as trailing foliage in hanging baskets, mixed containers, and borders. In warmer areas, these deer-resistant plants are used as ground cover or even lawn substitutes.
Dichondra can be grown in mild temperatures and is easy to maintain. Good soil drainage and ample sunlight are key for optimal growth, along with even watering to prevent the soil from drying out.
 Please select flower to see care instructions.
Varieties Listing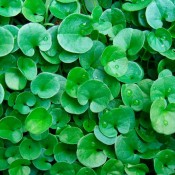 DICHONDRA, Emerald Falls
Dichondra repens Rounded green leaves with a dense, vigorous, cascading habit make this an excellent choice for mixed containers, planters and hanging baskets. Also performs well as a low-growing groundcover and as an indoor lifestyle plant. Emerald Falls is heat and drought-tolerant and will recover quickly even after it has wilted. Easy to grow-low maintenance.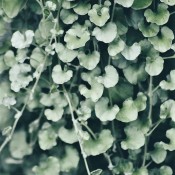 DICHONDRA, Silver Falls
Dichondra argentea Small, rounded, pewter-coloured leaves which resemble miniature water lily pads or fans, make this a unique, trailing accent plant for hanging baskets and planters. Silver Falls is heat and drought-tolerant and will recover quickly if watered after it has wilted. Silver Falls performs as a low-growing groundcover or it adds a cool contrast… Read more »
Back to Garden Collection.