(fel LEE she ah), (fel LISS ee ah)
This beautiful garden standard has dark blue stars with yellow centres against narrow foliage. They originated from South Africa and need full sun and well-drained soil. Cold cultivation simplifies the bushy compact habit. Cooler temperatures slow down growth and promote side branching.
Please select flower to see care instructions.
Varieties Listing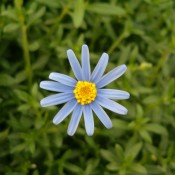 FELICIA, Tosca Blue
These wonderful daisy-like flowers will grow 1 to 2 across in abundant quantities. The dark blue flowers with golden yellow centers are splendid for containers, borders, and mass displays in new gardens.
Back to Garden Collection.