(glek KOE mah)
Glechoma hederacea
Glechoma (Nepeta) is an aromatic, perennial evergreen plant of the mint family, native to Europe but gaining popularity in North America. The interesting fan-shaped foliage with scalloped edges of this low-maintenance creeper is fragrant. The flowers that bloom in the spring are funnel-shaped, blue or bluish-violet to lavender in colour. Glechoma is best grown as a container plant as it is fast growing and vigorous and it can be problematic if left unchecked. This pretty trailer is perfect planted at the edge of containers, window boxes, and hanging baskets. Because it can take some foot traffic, it can be grown as a groundcover or used in rock gardens. USDA Zone 5-11 and tolerates to -10°F /-23°C.
Please select variety to see care instructions.
Varieties Listing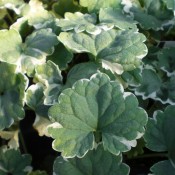 GLECHOMA, Emerald Frost
Glechoma, a perennial (-10°F /-23°C) ground cover, is grown for its distinctive and fragrant foliage. The interesting small, round, scalloped and variegated green and white foliage trails down over the edge of planters, window boxes and hanging baskets beautifully. Glechoma is best grown in containers because of its natural tendency to spread and grow vigorously…. Read more »
Back to Garden Collection.