(hel ih KRY sum)
Helichrysum is grown for its petite, velvety, trailing foliage. The silvery sheen of licorice plant makes it a perfect complement for many other plants. Include helichrysum in hanging baskets and mixed containers, and the trailing growth will quickly fill in and provide a soft backdrop for the colourful flowers of other plants. Its cascading habit also makes it suitable for low-growing borders and beds.
Please select plant for care instructions.
Varieties Listing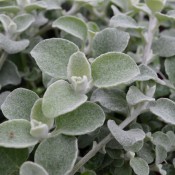 HELICHRYSUM, Azure Sunset
Azure Sunset has small, soft oval shaped bluish green leaves on trailing stems. The beautiful silver blue foliage is a great addition to combination plantings in baskets, containers or beds.
Back to Garden Collection.