(hee lee oh TROHP), (hēl yə TROHP)
Heliotropium
These old-fashioned flowers may have been at the forefront in your grandmother's garden. But, their renewed popularity is no surprise, considering their attractive foliage, flowers, and scent. Very few bedding plants have Heliotrope's reputation for sweet fragrance. Reminiscent of vanilla, the Heliotrope's scent gave rise to its common name used years ago: the cherry pie plant. Heliotrope can be used for mass planting and garden beds. But ideally, it is best grown in window boxes and containers and placed on patios where the fragrant flowers can be enjoyed. Combine Heliotrope with yellow or white flowering plants, or plants with burgundy leaves for a striking colour contrast. It attracts hummingbirds, butterflies and other pollinators to your garden.
Please select flower to see care instructions.
Varieties Listing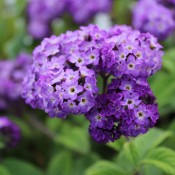 HELIOTROPE, Sachet
Sachet is an improved variety of Heliotrope, with a sweeter vanilla fragrance and deeper bluish-green foliage. Each individual flower is very small, but they are massed in large heads. Ideally suited for sunny garden beds, patios, window boxes or wherever vibrant colour and sweet fragrance is needed. Butterflies and bees are very attracted to the… Read more »
Back to Garden Collection.