(ip oh MEE uh), (ahy pey MEE uh)
The intensely-coloured foliage results in a lot of interesting possibilities. Ipomoeas make excellent filler and accent plants in planters, balcony boxes, and hanging baskets. The climbing vines will grow up small trellises or other structures.
Please select plant to see care instructions.
Varieties Listing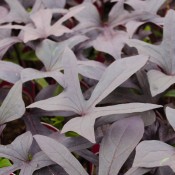 IPOMOEA, Chocolate
This creeping and trailing plant has deeply lobed, dark reddish chocolate brown leaves. Uniform habit with its distinctive dark bronze colour makes this an excellent accent to other plantings. Highly recommended for mixed containers or baskets to be used as a trailing foil. They love the sun, heat and well drained soil.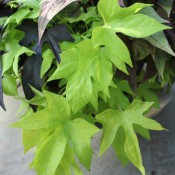 IPOMOEA, Patio Lime
Full, graceful, cascading foliage – outstanding, bright chartreuse.  Fluorescent green foliage provides a stunning contrast in baskets, pots, window boxes or patio planters.  They love the sun, heat and well drained soil.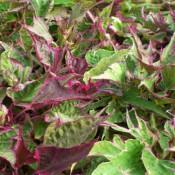 IPOMOEA, Tri-colour
This distinctive plant has green leaves with reddish pink and white marked edges.  Gardeners love this ornamental sweet potato vine for its strong, vigorous growth. It creeps and mounds and trails. Wonderful tri-coloured foliage makes an excellent accent in hanging baskets, beds, borders, mixed containers and window boxes. They love the sun, heat and well… Read more »
Back to Garden Collection.