(lye-sih-MAK-ee-ah)
Lysimachia is an evergreen perennial that is native to Europe. This species of plant are often vigorous, low growing ground cover that prefer damp soil conditions.
Please select flower to see care instructions.
Varieties Listing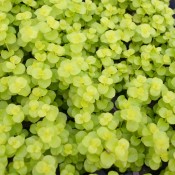 LYSIMACHIA, Goldilocks
Goldilocks is a low growing perennial that makes an excellent spiller plant, gracefully trailing over the edge of planters, baskets, and containers. It adds a beautiful chartreuse green colour that will complement accompanying flowers. Blooming in late spring, the yellow flowers and green foliage will show the best colour in full sun. Goldilocks is easy… Read more »
Back to Garden Collection.