(pet TOO nyah)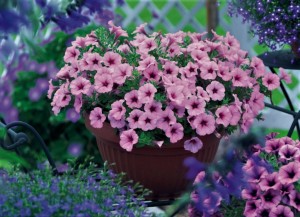 Petunia is still one of the most popular and indispensable bedding plants. Petunias are prolific trailing bloomers that flower constantly all summer. An outstanding feature of Tried & True varieties is their perfect branching. They are robust, weather resistant, and distinguished by their even growth. With the wide range of striking colours and flower shapes, Petunias are ideally suited for beds, borders, baskets, tubs, and window boxes. Blooms are mostly self-cleaning.
Please select flower to see care instructions.
Varieties Listing
Back to Garden Collection.