(ROH ee oh)
Rhoeo is a short stemmed, tender foliage plant that provides excellent and fast-growing groundcover of upright, sword-shaped leaves. The colourful leaves provide great accent to landscapes, and mixed containers. This also makes for an easy to care for house plant. Rhoeo is drought tolerant and therefore prefer dryer soil. Be careful when watering as excessive moisture will develop foliage diseases.
Please select flower to see care instructions.
Varieties Listing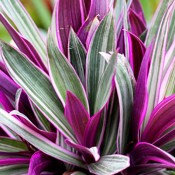 RHOEO, Fireworks
Fireworks is a beautiful colour and texture plant. The broad, sword-like succulent leaves are striped with white, green and pink on top and display an attractive purple tone underneath. The vivid colours of Fireworks makes it an excellent accent plant for landscapes, mixed containers, borders, and ground cover. Fireworks is a must-have plant that is… Read more »
Back to Garden Collection.