(mu-lan-BEK-ee-a)
Muehlenbeckia complexa
Muehlenbeckia is a creeping plant, native to New Zealand with distinctive small, round, emerald-green leaves and wiry dark stems. It is low maintenance and fast-spreading. This foliage plant is good for borders, rock gardens, hanging baskets, and planters. It can tolerate limited foot traffic. As the season progresses, little white flowers appear. This versatile plant can be adapted as a houseplant.
Please select flower to see care instructions.
Varieties Listing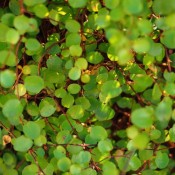 MUEHLENBECKIA, Angel Vine
Muehlenbeckia Angel Vine is a pretty trailing vine with dainty, glossy, round, green foliage on wiry dark stems. It is low maintenance and easy to grow. To add foliage interest, use it in hanging baskets, window boxes, rock walls, and combination planters or it can be used as a groundcover. Its growing habits make it… Read more »
Back to Garden Collection.