(tib oo CHEE nah)
Tibouchina urvilleana
Tibouchina is a wonderful, colourful accent plant that will give a tropical flair to your containers or garden beds. The dark green velvety leaves provide an attractive backdrop for the showy blossoms. Large, royal blue-purple flowers create a spectacular sight when in full bloom from late spring to autumn. Tibouchina is great as a specimen or as an accent in a large mixed container on a deck or patio. This frost-tender plant can be grown into a rounded shrub or trained into a small tree in warmer climates.
Please select flower to see care instructions.
Varieties Listing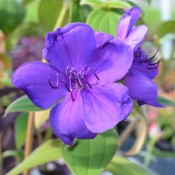 TIBOUCHINA, Latin Princess®
Latin Princess is vigorous grower that blooms constantly all summer. The dark green, velvety leaves may have red margins. Rounded, red-tinged buds open to reveal royal cobalt blue flowers in late spring to late fall. The showy large blooms of this low maintenance plant are self-cleaning. A stunning flowering centerpiece in an established border or… Read more »
Back to Garden Collection.