Cynara Scolymus
Native to the Mediterranean, the artichoke has been cultivated since the days of the ancient Greeks and Romans.   It was first introduced to California by Spanish explorers, later by Italian farmers who settled along the central California coast.  Today, the majority of artichokes eaten in Canada and the United States are grown in the coastal town of Castroville, California – Artichoke Capital of the World.
The stems and leaves of artichokes are tasteful, but it is the bud that is prized. Silvery-green foliage, unusual flower stalks, and attractive thistle-like lavender flowers make globe artichokes a fine architectural addition to an ornamental flower garden as well as the vegetable garden. Artichokes are cool season plants and are excellent companions to asparagus, corn, and tarragon.
| | |
| --- | --- |
| Nutrition | The artichoke is high in potassium, phosphorus, and vitamins A and C. It is also a good source of fiber, calcium, sodium, and iodine. One medium cooked artichoke contains about 60 calories. |
| Harvesting | Artichokes are ready to harvest when the heads/buds are closed tightly and squeak slightly when squeezed. Handle buds carefully during harvest to avoid bruising bud leaves. To harvest artichokes, cut the bud from the stem about 1" - 1½" inches (2-4cm) below the bud base. Fully open buds are fibrous and inedible, but artichoke blossoms are attractive as fresh or dried flowers. Remove the old stems after harvest will promote more stems. |
| Storing | Globe artichokes are best eaten right after picking, but you can store them in the refrigerator (32°F or 2°C with high humidity) for up to two weeks. |
Varieties Listing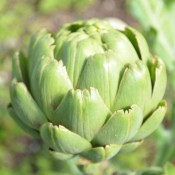 ARTICHOKE, Imperial Star
The thornless Imperial Star produces 4.5″ (11cm) sweet, mild artichokes the first year from mid-summer through fall. The round chokes are easy to harvest and mature at a pace so you have a long harvesting window. The grey/green-foliaged plants can be planted in your ornamental garden.
Back to Organic Edibles.