Brassica oleracea.
Brokali is a unique hybrid that combines the tender stems and florets of broccoli with the ruffled leaves of kale. It is an excellent performer in colder temperatures. Tender texture and sweet taste.
| | |
| --- | --- |
| Nutrition | Like other members of the cabbage family, Brokali is considered helpful in the prevention of certain types of cancer. Brokali is an excellent source of vitamins A and C and is also high in calcium, iron, vitamin B6 and potassium. |
| Harvesting | Harvest main heads when the buds are tight and compact. Removing the central head will stimulate regrowth and will promote growth of the side shoots. |
| Storing | Store in refrigerator for about one week. |
Varieties Listing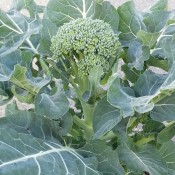 BROKALI, Atlantis
Atlantis is a unique, hybrid cross between Calabrese broccoli and kale. It produces small well-formed heads along with a plethora of tender and delicious side shoots. Harvesting the main heads promotes side shoot growth, and continual cutting improves yields. Atlantis is tender in texture and boasts a sweet flavour between broccoli and asparagus. Atlantis performs well… Read more »
Back to Organic Edibles.