Citrullus lanatus.
Cantaloupe, as they are known in North America, is named for the town of Cantalupo near Rome where they grew. In Europe, these melons are known as muskmelons or nutmeg melons and take their name from the Romans' habit of sprinkling the fruit with powdered musk to enhance the flavour. They are the most fragrant and delicious of melons.
Varieties Listing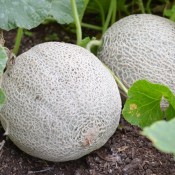 CANTALOUPE, Athena F1
This vigorous, dependable and early maturing variety bears 5 – 6 pounds (2 – 3 kg) fruit with outstanding flavour and aroma. With firm, deep salmon-orange coloured flesh and small seed cavity, Athena has excellent yields and a good shelf life. This variety is very popular with market growers because of its exceptional quality and… Read more »
Back to Organic Edibles.