Lavandula
Lavender is an herb garden favourite grown for its calming scent, gray-green foliage and spikes of blue-violet flowers. They are so versatile and can work in a variety of applications, from formal English gardens, cottage gardens, vegetables and herb plantings and rock gardens. While many gardeners use lavender as a border plant, it can be grown successfully in containers too. Once they are established, they are low maintenance and drought-tolerant. Lavender are pollinator magnets – attracting bees and butterflies and they are deer- and rabbit-resistant too.
Lavender can be used in a plethora of ways from food to medicinal purposes to soaps and so many more crafting projects. To preserve and dry lavender, cut stems and hang small bunches upside down in a dark, dry area until the moisture has evaporated.
Varieties Listing
LAVENDER, Bandera Pink
Bandera Pink has a dreamy aroma and stunning pink colour on a dense, compact plant body. It is the perfect Spanish lavender for planting in a container or in the front border. This low maintenance lavender is easy to grow and self-cleaning. Prolific flowering all season long. It loves the heat and is drought tolerant. A… Read more »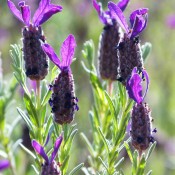 LAVENDER, Bandera Purple
Lavandula stoechas. With an ethereal fragrance and exquisite colour, this Spanish lavender is a must-grow. Bandera's compact body is covered in gorgeous rich purple flower spikes all season long. Its dense, mounded form make it a superb choice for containers. This low maintenance lavender is an ease to grow. It loves the heat and are… Read more »
Back to Organic Edibles.