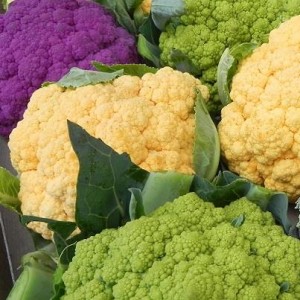 This special collection consists of bright purple, orange and green cauliflower. The mid-sized, eye-catching heads have smooth, tight curds coloured with rich tones. Easy to grow in both the spring and the fall seasons.
Brightly coloured cauliflower varieties have more beta-carotene than standard white cauliflower. They have a mild and sweet flavour. The brilliant hue will maintain even after some light cooking. Serve these gourmet beauties fresh as a crudité or steamed to enjoy its natural vibrant colour.
Tip: Add a few drops of lemon juice to the water to help maintain the cauliflower's bright colour.
| | |
| --- | --- |
| Maturity | 70 - 85 days |
| Height | 18 - 24 inches (46 - 61 cm) |
| Spacing | 18 - 24 inches (46-61 cm) |
| Light | Sun |
| Soil | Well-draining, hummus-rich soil |
| pH Range | 6.0 to 6.8 |
| Watering | Keep soil evenly moist |
| Fertilizing | Balanced fertilizer at time of planting |
| Nutrients Required | Nitrogen = moderate to high; Phosphorus = high; Potassium = high |
Back to 606 VARIETY PACK