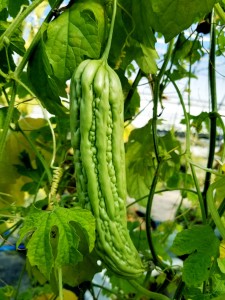 Momordica Charantia
Bitter Melon, also known as Bitter Gourd, Balsam Pear, ku gua, Goya and Karela, is part of the gourd family and has been cultivated in Asia since the early 1700s. This vegetable deserve its name and is for the adventurous diner and avid foodie. It enjoys a wide following and is used in cuisine from China, India, Thailand, Malaysia, Vietnam, Japan, Sri Lanka, Indonesia, Trinidad and Mauritius.
Bitter Melon is an unusual vine generally grown as a garden annual. It has attractive glossy green foliage and bright yellow flowers followed by curious-looking warty fruits. The exotic fruit has pebbly pastel green skin, thick white flesh and seeds. Choose fruits that are yellowish green; the very green ones are more bitter. To prepare, some like to blanch the halved bitter melon in boiling water for a few minutes and then drain. Scrape the skin lightly, remove the white seeds and pith, rub with salt and let stand for about 15 minutes, then wash and squeeze dry. It absorbs other flavours well so it is tasty in stir fries and soups, but also prized for its medicinal qualities.
Jade Dragon's 8 – 10″ (20 – 25 cm) long fruits grow straight when trellis support is provided. Plant in the warmest spot in the garden like a south facing wall. Harvest fruit early in the morning and cut them from the vine rather than twisting or pulling.
To store, place in the refrigerator and use within a week to 10 days.
| | |
| --- | --- |
| Maturity | 65 - 75 days |
| Height | 39 - 78" (1 - 2 m) |
| Spacing | 18 - 24″ (45 - 60 cm) |
| Light | Full Sun |
| Soil | Rich, organic and well draining |
| pH Range | 6.0 to 6.8 |
| Watering | Keep soil evenly moist. Plant does not like overly wet soil. |
| Fertilizing | Balanced fertilizer at time of planting. |
| Nutrients Required | Nitrogen=high; Phosphorus=moderate; Potassium=moderate |
Back to Taste of the Season.