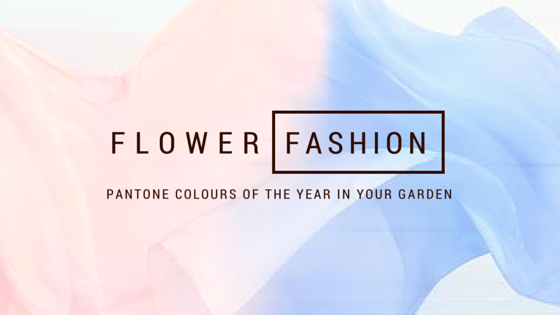 Earlier this month, Pantone announced their 2016 Colour of the Year. Or should I say colours. That's right, unlike previous years' predictions, Pantone chose a blend of two colours: Serenity and Rose Quartz. Together, the colours create balance and act as a soothing counterpoint to the stresses of modern living. Both gentle and calming tones also have rich ties to nature. The cool, airy blue of Serenity is reflected in the transcendent blue sky; the warm, light pink of Rose Quartz is extracted from tranquil sunsets. These colours will definitely lend themselves well to your garden, meaning you will not only be able to create your own backyard oasis but you'll also have the most vogue garden on the block!
Serenity
Looking at Felicia Tosca Blue is like gazing up at the sky on a clear summer's day, the radiant sun popping out against the cloudless blue backdrop. Just imagining that makes me take a deep breath. I love this plant not only because of its exquisite colour but also because it adds this light, airiness to containers and garden borders. Plus, Tosca Blue's hardiness means it will provide this transcendent Serenity-blue colour all summer long.
Rose Quartz
While Petunia SunPassion Cherry Vein is not an exact match to Rose Quartz (especially in this picture), I find that it does elicit the same feelings as Rose Quartz. Amid the chaos of the busy spring and summer seasons, the flushed pink blooms always seem draw me in and reminds me to take the time to reflect on my surroundings. This is probably why I can't help but take a picture of Cherry Vein every time I see its beautiful blooms. And, it is a very robust bloomer so you will get to enjoy this gorgeous flower well into the autumn months.