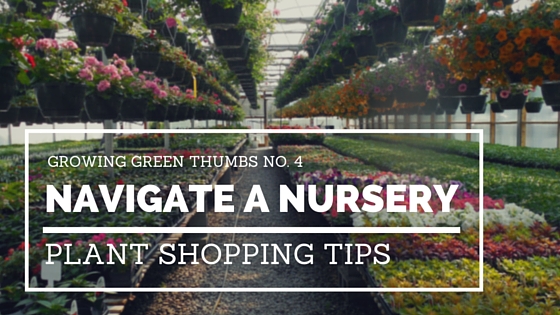 In an ideal world, the few months leading up to spring are spent meticulously researching plants and tirelessly planning your garden. By the time shopping season comes around, you would already have a full shopping list and can pop in and out of the nursery in a snap. No overspending; no forgotten purchases. You're good to go. But, unfortunately, that often isn't the case. So here are some tops tips for navigating a nursery like a green-thumbed pro!
Have a list
So you may not have gone full out with planning, but having a vision of your future garden will surely be helpful. Include any plants that you enjoyed from previous seasons, plants that you wish to try, and all the gardening supplies that you are missing/need to replace.
Be familiar with your garden
It is okay to not have a fully fleshed out idea for your garden before shopping. If that is the case, be sure you know everything you can about your garden before heading to the nursery. Know the type of soil you are working with and the light exposure each part of your garden gets. These will be important when it comes to choosing suitable plants. It is also useful to bring pictures of the garden beds and containers that you have as well as know their dimensions. If you ever have to ask nursery staff for advice, these will give them a better idea of what you are working with.
Don't be afraid to ask for help
In most cases, staff at local nurseries and garden centres are much more knowledgeable than those at big-box stores. They will be more than willing to help you with any questions you might have with respect to soil or plant choices.
Take your time and walk around
Nurseries and garden centres can be a source of inspiration for your own garden. Many create garden vignettes that you can easily replicate at your own home. Also, you can discover new plants and innovative products that can help make your gardening tasks easier.
Read the labels
Discovering new plants is always exciting but it gets a little disheartening when you bring them home to find that they aren't suitable for your garden conditions. Plant labels provide lots of information about the plant's habits, light and water requirements, and preferred soil conditions.
Get enough of each plant
Bringing home only one or two pots of a single variety will result in a mishmash garden that lacks impact and oomph. Oftentimes, garden designers plant a mass of single varieties to get the show factor.
Choose healthy plants
Being in the nursery can make anyone overzealous and just grab any pretty plant on the shelves. Although most nurseries and garden centres will have quick turn around on plants, you still have to be vigilant in choosing healthy ones. It may be appealing to choose plants that already have an abundance of flowers so you can plop them in and instantly have a pretty garden. But don't! These may be old and tired plants that are on their last leg of blooming. Instead, look for plants with some flowers and a lot of buds. Leaves can also tell a lot about a plants health. Avoid plants with brown, yellow or wilting leaves. Instead, opt for lush and vibrant foliage. When examining the plants, also look for foliage damage from insects. If you purchase infested plants, the insects will spread through your home garden and cause so much frustration.
Bring a tarp
Some garden centers provide free trunk liners, but it's better be safe than sorry. Soil gets into every nook and cranny of your trunk, even in places you didn't know existed. Laying tarp down in your trunk will allow for quick and easy cleanup giving you more time to enjoy your new plant babies.
Check out the information seminars or workshops offered at the garden centres
Most garden centres and nurseries have informative seminars on various subjects ranging from container growing to creating your very own fairy garden. Many are inexpensive or even free.  Some are information based and some are hands-on workshops where you create and take home.
With these tips you are ready to get your plant shopping on!
Looking for awesome garden centres and nurseries near you? Check out our favourites on our retailers pages: